Adirondack Foundation welcomes new staff members, trustees
Monday, May 22, 2023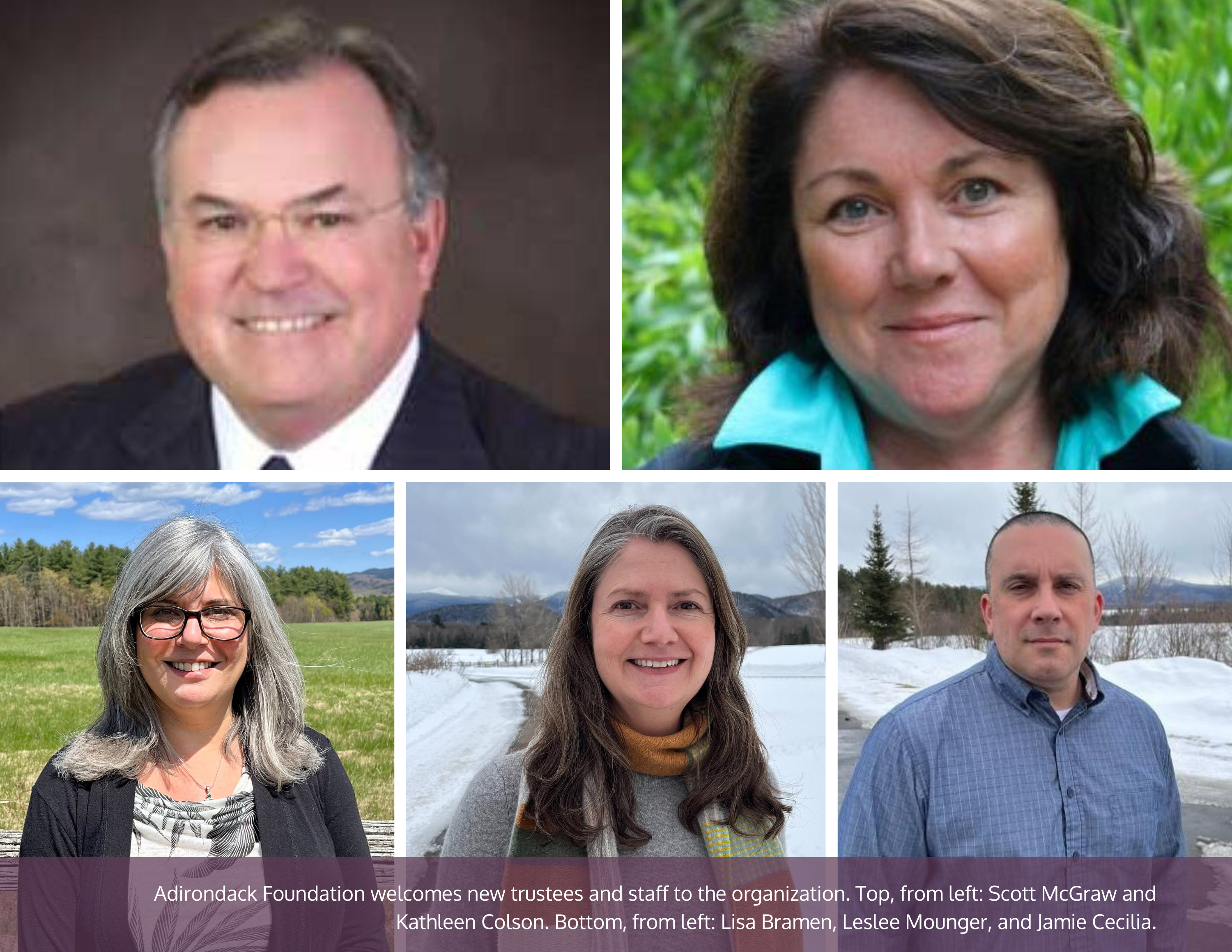 LAKE PLACID — Adirondack Foundation has announced the addition of several new board and staff members.
The Foundation's Board of Trustees recently welcomed Scott McGraw and Kathleen Colson, and the staff added Lisa Bramen, Jamie Cecilia and Leslee Mounger.
"Our work to drive positive change in the Adirondack region only goes as far as our people can carry it," said Cali Brooks, the Foundation's president and CEO. "The newest additions to our team will help us continue to rise to meet the challenges and opportunities in our communities."
McGraw, a private investor and consultant, worked in television advertising for 29 years. Most recently, he was executive vice president and general manager of National Advertising Sales for the Discovery Networks. Prior to that, at The CBS Television Network, he was executive vice president of Sales and Marketing for CBS Sports. McGraw earned a bachelor's degree in mass communication from the University of Denver. He is former board chair of the Adirondack Health Foundation and Skidmore College.
Colson is renowned as the founder of The BOMA Project, an award-winning organization that works in Africa's arid lands. BOMA is recognized as a global thought leader for their innovations in technology, programming, female empowerment and financial inclusion. With extensive experience in nonprofit management and fundraising, Kathleen created her Big Idea Nonprofit Consulting firm, which has worked with numerous Adirondack organizations, including Adirondack Foundation, in that capacity.
Bramen steps into the role of director of communications at the Foundation, bringing a range of communications experience and deep knowledge of the Adirondacks. She has worked as an advertising art director for McCann Erickson Los Angeles, a reporter for the Glens Falls Post Star and, most recently, as a senior editor at Adirondack Life magazine for 15 years. She has a master's in journalism from Columbia University and a bachelor's in art from California State University, Fullerton. She serves on the board of the Upper Jay Art Center.
As chief financial officer, Cecilia brings experience from various finance-related positions to the Foundation, ranging from economic development lending to credit union leadership. He moved to the North Country in 2012 to accept the CFO position at a regional credit union and has been a resident ever since. He has an MBA from Union College as well as a master's in public administration and bachelor's in economics from Syracuse University.
In her role as funds and programs officer, Mounger works to connect donors with the Foundation's overarching grantmaking strategy. Previously, she worked for over a decade helping residents and tourists alike enjoy all the Adirondacks have to offer as co-owner of Green Point Foods and as general manager of The Birch Store. She has served on the board of the Keene Valley Library Association and graduated with a BA from Wesleyan University.
To learn more, contact Lisa Bramen at [email protected].